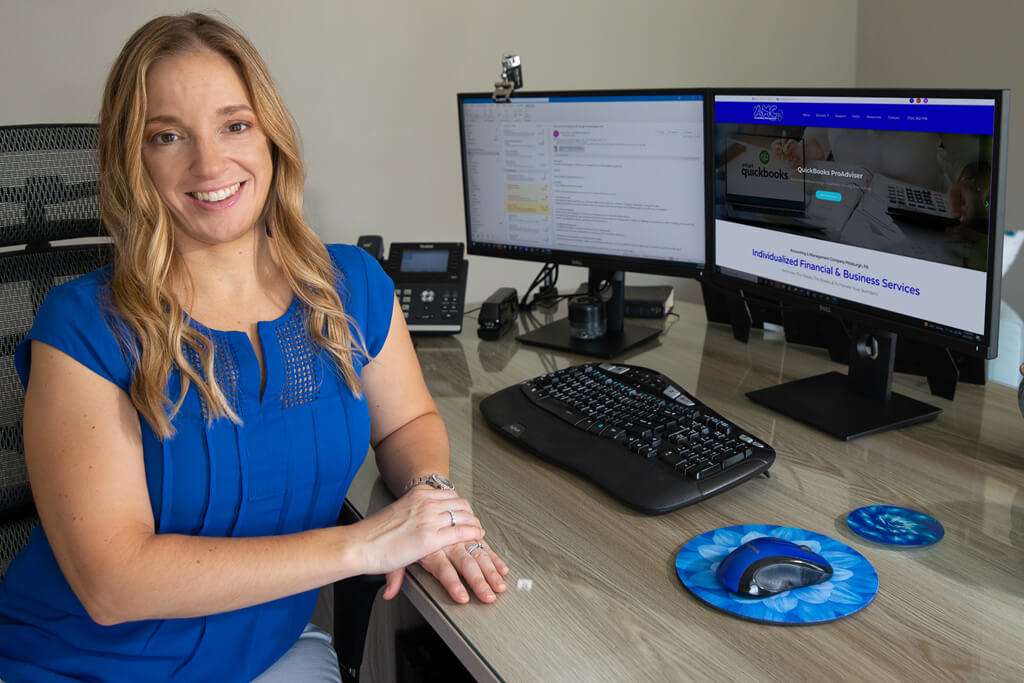 About Accounting & Management Company Pittsburgh, PA
Naturally, you may think bookkeeping, accounting, business, and financial management are based on number crunching, but the truth is; success starts well behind the numbers.
Accounting & Management Company Overview
Accounting & Management Company is a woman-owned small business offering personalized business & financial management & consultant services for non-profits, for-profits, partnerships, startups, & sole proprietors.
Established in 2011 by Heather Nicklow, AMC performs daily or outsource accounting, bookkeeping, payroll processing, business development & administration, financial management, & consultant services.
As an Authorized QuickBooks Partner & Certified ProAdvisor, we offer accounting system design, QuickBooks installation, setup, training, supervision, & consultant support for desktop and online platforms.
Founded in 2011, Accounting & Management Company is your partner for accounting and bookkeeping outsourcing. We provide support for small business owners, start-ups, nonprofits, for-profits, partnerships, and self-employed independent proprietors around Pittsburgh.
We believe it's important to take the time to listen and learn about your business, challenges, goals, and expectations. Taking that into account, we provide our clients with specific services and consultation options to effectively manage and develop their business successfully. Our tailored approach is power by high-tech software and personal service to organize and streamline your accounting and bookkeeping processes, so you can make confident decisions.
From the beginning, we've earned the reputation as Pittsburgh's most trusted accounting and bookkeeping business service advisor. We work hard every day to earn the privilege to call you our friend and client. Accounting & Management Company operates under a strict code of business ethics and voluntarily exceeds our high standards of transparency, accountability, and performance.
Continuous improvement, training, and education is a core principle of our corporate culture. Accounting & Management Company staff members perform a wide range of duties. As a QuickBooks ProAdvisor, our associates receive ongoing. You can be confident that our team has the proper training and education to handle your financial documents and ensure Industry regulations and compliance with the law.
We're ready when you're ready
Heather Nicklow
Owner /Senior Accountant
The Face Behind Our Success
Founder, Heather (Onorato) Nicklow is a 2005 graduate of Thomas College and earned a Bachelor's in Accounting and Master's in Business Administration.
As a full-time student, Heather excelled academically while working three part-time jobs to pay her tuition. After graduation, she turned a part-time college job into a full-time position and launchpad for her career. She quickly outgrew the scope of services offered by the small-town CPA firm and relocated to Pittsburgh from her hometown in Maine to expand her skills.
Heather landed a Financial Administration position at HFF Pittsburgh, a large Commercial Real Estate Investment firm. Her attention to detail, dedication, business organization management skills proved to be significant assets for the growing firm.
Controlling key accounts in healthcare, nonprofit, for-profit, and commercial real estate brokerage sectors, she identified common organizational and technical challenges that were negatively affecting her client's profitability and business performance.
Pursuing the solution like a true entrepreneur, she devoted personal time to advancing her education and acquiring a QuickBooks ProAdvisor certification while preparing to start her own business.
Heather launched Accounting & Management Company in 2011 to help not-for-profit organizations, entrepreneurs, and small-business owners control their finances and manage their business better.
Today, AMC is a five-star rated Accounting, Bookkeeping, Business, and Financial Management Firm with a proven track record of success. Let's jump on a call and learn how we can protect your bottom line and help increase your profits.
Cleanup your books & avoid accounting mistakes
financial & business services
We're Always eager to help