Accounting & Management Company
Pittsburgh, PA
Individualized Financial & business services
We know The Ropes, The Books, & How To Handle Your Numbers
Authorized QuickBooks Partner & Certified ProAdvisor
Accounting & Management Company offers personalized business development & administration, financial management, & consultant services for non-profits, for-profits, partnerships, startups, sole proprietors, & self-employed small business entrepreneurs
Cleanup your books & Avoid accounting Mistakes
Looking For Small Business Bookkeeping & Accounting Help Near Pittsburgh, PA? Accounting & Management Company is here to answer your questions and is ready to handle your accounting, bookkeeping, payroll processing, and financial management needs. We offer flexible support options including day-to-day and outsource bookkeeping, accounting, payroll, and business consulting services to help your businesses get to the next level.
Not-for-profit organizations, ranging from professional and trade associations to religious and charitable organizations 501(c) and foundations demand a strong knowledge of nonprofit reporting. Accounting & Management Company understands how to work through and around the intricacies and specialized operational regulations that restrict these groups. We have been assisting non-profit organizations with bookkeeping, transactional recordings, and projecting outcomes of programs and services for decades. We are considered the go-to nonprofit bookkeeping and accounting firm for Pittsburgh nonprofits because we love helping you help others.
Professional Partnerships
Accounting & Management Company, a Pittsburgh accounting, and bookkeeping firm understand the issues facing partnerships and small business owners. We have a successful history of helping local businesses address complicated accounting and bookkeeping issues. Business and financial management matters and cash flow concerns can be challenging for business owners to calculate. We design and set up intricate accounting systems that are easy to navigate and simple to extract financial data from for entrepreneurs and small business owners.
Sole Proprietor (self-employed)
Running a business by yourself is tough. You're working hard to make a living every day. It's next to impossible to make important decisions moving forward without a good feel of where you are at financially. These decisions can carry high risk and may result in penalties and fees if you guess wrong. Accounting & Management Company helps self-employed people just like you. We can structure your business, set up online banking, manage your books and accounting services, so you can make smart business decisions. We do the number crunching so you can focus on your business.
Accounting
Communications
Contractors
distribution
Education
electricians
Entertainment
healthcare
hospitality
landscape
Manufacturing
retail businesses
Telecom
Advertising
consultants
financial advisors
Insurance
legal
marketing & events planner
real estate
churches
Education
environmental
foundations
Government & public contracts
municipalities
nonprofit organizations
Our business is your business
We're Large Enough To Handle All Your Fiscal Needs & Small Enough To Know Your Name
Managing your day-to-day accounting, bookkeeping, payroll, financial records, and reporting can be time-consuming and overwhelming. Keeping up with technology and training employees can be costly. Our end-to-end, client-centric approach offers scalable services, profitable advice, and flexible support solutions to help your small business.
Want to start a new business?
We'll establish and file the correct business entity, build your structure, create policies and procedures, and set up banking to get your idea off the ground.
As a senior-level QuickBooks ProAdvisor, we got you covered. Accounting & Management Company can evaluate, design, and install the right accounting system and QuickBooks software for business needs. We're here when you need us. Your back-office staff can rely on our user-friendly training and ongoing support.
Exactly what you need & nothing that you don't
Accounting & Management Company offers flexible support options to suit your needs & fit your budget
You started your business because you love what you do, we understand that passion and work to make sure we help you stay focused on being the best in business. We provide accounting, bookkeeping, business setup, and financial management, payroll processing, cash flow, sales tax prep, business, and financial management services on an as-needed or day-to-day basis with as much or as little involvement as necessary.
It's not one thing; It's every thing
Manage Assets, Projects, Finances, Revenue, Tax Liaison, Regulations, & Plan For Growth
Recognized As Best Accounting & bookkeeping Experts in Pittsburgh
what our clients have to say
"Heather Nicklow is the consummate professional. She is extremely efficient and organized and pays the greatest attention to detail. Anyone who chooses Heather's services will not be disappointed."
"I've known Heather for 3 years and trust her completely to keep our books perfectly accurate. There are basic tasks I can perform in our QuickBooks but it's a good thing I have her to double-check and correct my mistakes when she balances our books at the end of each month. We'd be lost without her!"
"I have served as a board member of two nonprofit organizations in which Heather performs outstanding accounting responsibilities. Additional to her accounting responsibilities, Heather is able to understand the organization's goals/outcomes and roadblocks with respect to budgets. She presents information professionally, critically if asked, and always with respect for our audiences' financial backgrounds."
"Heather Nicklow, the CEO of Accounting & Management Company, and her experienced team saw us through a very difficult payroll system set-up and revision of our entire HR program. Through Accounting & Management Company we have streamlined our processes, freeing up our employees to work on our core business. Heather and her team are organized and accurate in their work and continue to help us in so many ways. Going with Heather was one of the best decisions we have made in many years!"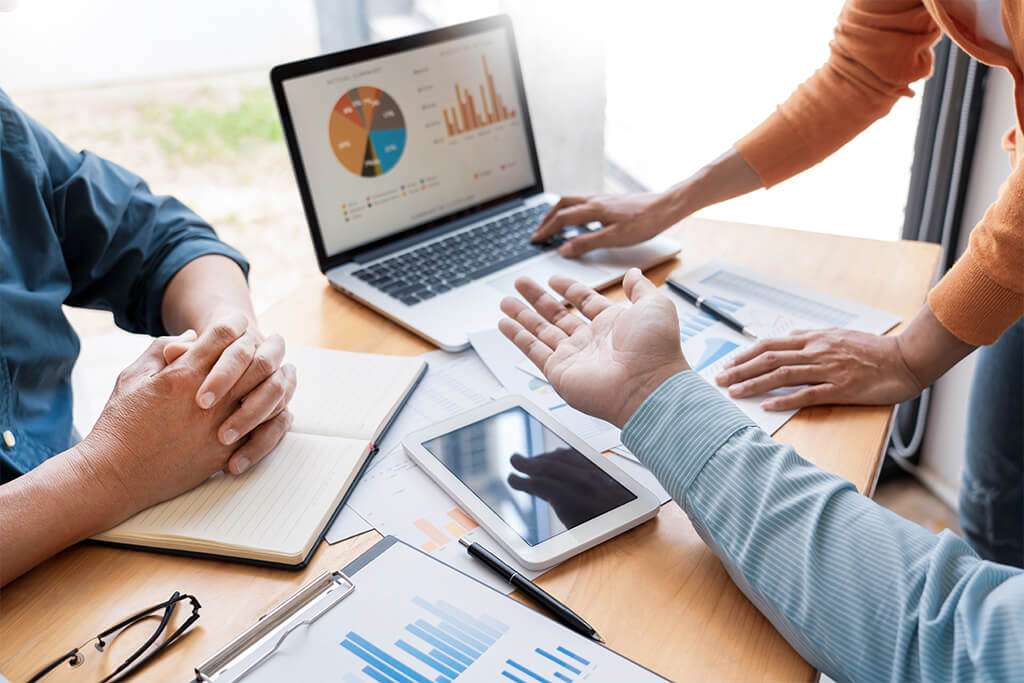 Let's Get a handle on your numbers
We are committed to your business and want to hear your story to understand your needs and wants. We'll align our services with your exact needs and work together to achieve your business goals.